Head basketball is a very unique and exciting game. We have many times heard of playing soccer with head. But we have never seen or even heard playing basketball with our heads. Well, this game is about that. You will have a good time playing headshots with basketball. You will face different challenges from a flaming shot from South Korea to competing with the ghosts of the captain of England.
You can play solo or you can choose to play against your opponents. Every player has their special power which they can use during the match at a certain interval. If the opponent does not stop this player using his special power, then the opponent is sure to score.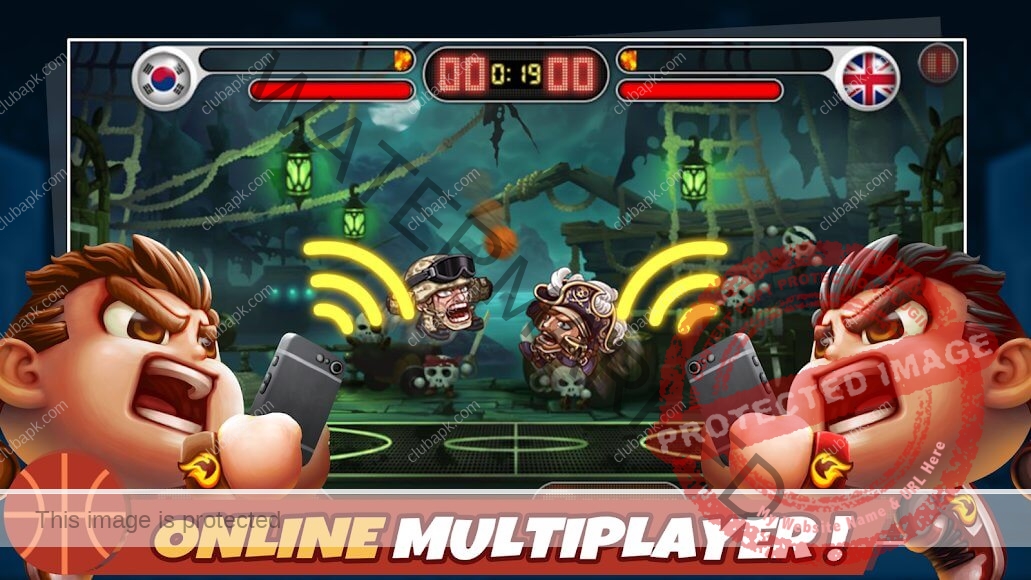 It is a straightforward game with multiple characters to choose from. It is fun to decorate the various unique characters with different costumes available. You can make your avatar of the character and develop them in your way. Of course, you need money for personalizing the features of your character. But with the Basketball head MOD version, you need not worry about the money.
The basketball matches are quite short and if you end up losing the game then you get nothing. All the matches are about 3 minutes long. Although the game sounds fun and easy, it is challenging to play. When the opponent uses their special power, it is almost impossible to block them. Not to mention the counter shot is inconsistent because sometimes it air-times perfectly to counters and sometimes it doesn't even reach the target, though you try it from the same position. It makes the whole game unplayable.
Google Play Additional Information for App:
| | |
| --- | --- |
| App Name | Head basketball |
| Developer | D&D DreamSports |
| Version | 3.4.7 |
| Category | Sports |
| Supported Version | Android 4.0 |
| Updated | 06 June 2019 |
Amazing Features of the Head Basketball Mod Apk
More than 28 different characters along with their unique special powers
There are 5 different modes in which you can play the game ( Arcade, Campaign, Tournament, Survival and league)
You can personalize your characters by decorating them with unique costumes
You have various costumes from the head to the toe
You can develop your character by upgrading ability scores using character level ups
You can play the game with users all around the globe (Google play service, Nearby Connection)
You can see realistic movements based on a physics engine
It is supported by Google play service rankings
It is supported by Google Drive (cloud save)
It is supported by Facebook
Multiplatform multiplay "Competition" ( iOS, Android )
MOD Features
Unlimited coins
Unlimited stars
All characters unlocked
No advertisements
WHAT'S NEW in the Last Update
The unlock condition has been fixed
New characters have been added
Supported Android
(2.3 and UP)
Supported Android Version:-
Gingerbread (2.3–2.3.7) – Honeycomb (3.0–3.2.6) – Ice Cream Sandwich (4.0–4.0.4) – Jelly Bean (4.1–4.3.1) – KitKat (4.4–4.4.4) – Lollipop (5.0–5.0.2) or UP
Permissions
Allow the app to mount and unmount file systems for removable storage.
Allow the app to get your approximate location. This location is derived by location services using network location sources such as cell towers and Wi-Fi. These location services must be turned on and available to your device for the app to use them. Apps may use this to determine approximately where you are.
Modify or delete the contents of your USB storage
Allow the app to write to the USB storage.
Allows the app to get your precise location using the Global Positioning System (GPS) or network location sources such as cell towers and Wi-Fi.
Read phone status and identity
Read the contents of your USB storage
View Wi-Fi connections
Installation instructions for Android devices
Head basketball is available on the Google play store. Although, if you want to get the MOD APK (unlimited coins) version of it, follow the given steps. There is no official link to download this app. You can go to any link and download it manually.
You might be interested in these apps: world of solitaire app and visor apk
Go to the link and click on download to save the app on your SD card.
When you click on the APK file, it will ask you to access the unknown sources.
Enable access to download from unknown sources.
Tap on the Head Basketball MOD APK in the unknown sources.
Click on install to continue the download
Wait for a few seconds for the app to download
Click on open and you will be redirected to the home page of the app.
You are ready to use Head Basketball MOD APK
Download and Install Head Basketball MOD APK on PC
You can install Head Basketball MOD APK on your PC using an Android emulator. Follow the given steps to download and install Head Basketball MOD APK on your PC.
To begin with, download Android emulator on your PC
Launch the Android emulator
Once your Android emulator is launched, click My Apps button in the emulator
Search for: Head Basketball MOD APK
Click on the Head Basketball MOD APK to download it
Login to your account to continue the download through your Android emulator
After login, the installation process will start for Head Basketball MOD APK and you are good to go
You may love these apps :
Conclusion
Head Basketball MOD APK is a combined game of basketball and soccer where you play basketball using your head. You can enrich the one of a kind characters with an assortment of attires. Make the best out of creating characters in a particular manner! Try not to pass up a great opportunity for winning matches with players and companions far and wide!
With the MOD version, you do not even have to worry about earning coins for buying new looks and characters. This 2D Art game will blow your mind and you will get addicted to this game very soon. Play this unique combination game and see for yourself.
Head Basketball MOD APK (Unlimited Coins)

Head basketball is a very unique and exciting game. We have many times heard of playing soccer with head. But we have never seen or even heard playing bask
Price Currency: USD
Operating System: Android
Application Category: Sports